We live in a world where evil exists. It is a sad part of the world we live in, but there are events that happen that we can't explain. It doesn't even feel real that it has been a year since the nightmare of news flashed across my television.
The events that took place that day will never make sense to me. I will never be able to understand how something so tragic is allowed to occur. As a husband and father these sort of events scare the living daylights out of me. I came home from work that day and hugged my daughter a little tighter and couldn't help but fear the fact that my wife and I would soon be bringing another child into a world of insanity.
In other tragedies it was too easy for me to turn the TV off and pretend that everything was okay. It was easy to pretend that the images I saw weren't real. The events that took place at Sandy Hook Elementary School were different to me because it struck a little closer to home than any other tragedy. A previous co-worker of mine had a niece that was in that first grade classroom.
Over the past year I have watched via my Facebook feed as a family grieves the loss of a child. A child they planned to watch grow up, to go to prom, to graduate and move off to college. But their plans were cut short by a deranged individual.
I can't imagine the pain and emotions that these families have experienced over the past year. In the midst of hurting parents and a hurting community there were those that were the first responders that were a part of something that no one should ever have to deal with. Some of them surely wake up with nightmares and images in their heads that they will never be able to get rid of.
My daughter was just over a year and a half on that December day. My wife and I have made the decision that we are going to remember in a unique way the children, teachers and administrators that lost their lives that day, but we also want to honor the individuals who were the first responders.
My wife and I decided that we were going to honor the individuals by doing random acts of kindness between December 14 and December 25. We want to help spread smiles and love in a world that, at times, feels so helpless. Our hope is to remind people that good always triumphs over evil. We hope to prove to people that a simple act of kindness can go a long way.
Today my daughter will sit at our dining room table and color a picture. She can't color in the lines, but it will be one of the most beautiful pictures ever colored. Not because she's some freak of nature with crayons and a Dora the Explorer coloring book, but because of what the picture stands for. The picture stands for the pictures that the children didn't get to color and the pictures the teachers and administrators didn't get to receive.
As a way of remembering the first responders my wife and I thought it would be a great move to take the coloring page to our local police station and let them know that our daughter and family appreciate them. The individuals who serve and protect us each day are highly under-appreciated and this is our hope at reminding them that they are valuable parts of our every day lives.
Be sure to check back between now and Christmas as to how my family finds creative ways to spread smiles and cheers this holiday season in remembrance of the innocent lives that were taken on December 14, 2012.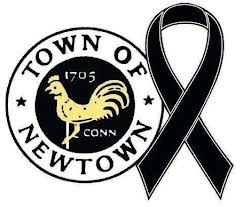 Sandy Hook Elementary you will forever be in our prayers!